NUDIE JEANS 15 YEAR ANNIVERSARY LIMITED EDITION 'BLOODLINE'
ART & DESIGN — 06/10/2016 — by Christian H.
We at ABP've been fans of Swedish jeans brand Nudie for many years.
The reason is a.) they are supernice people and always a pleasure to hang out with  b.) their beautiful products are of great quality and c.) they've been into producing under fair conditions and with organic materials long before big fashion brands found out that this would be a nice marketing trick to push their sales…
Today, for their 15 Year anniversary, they launched the limited edition "Bloodline", which is really worth to check out!:
https://www.nudiejeans.com/indigobloodline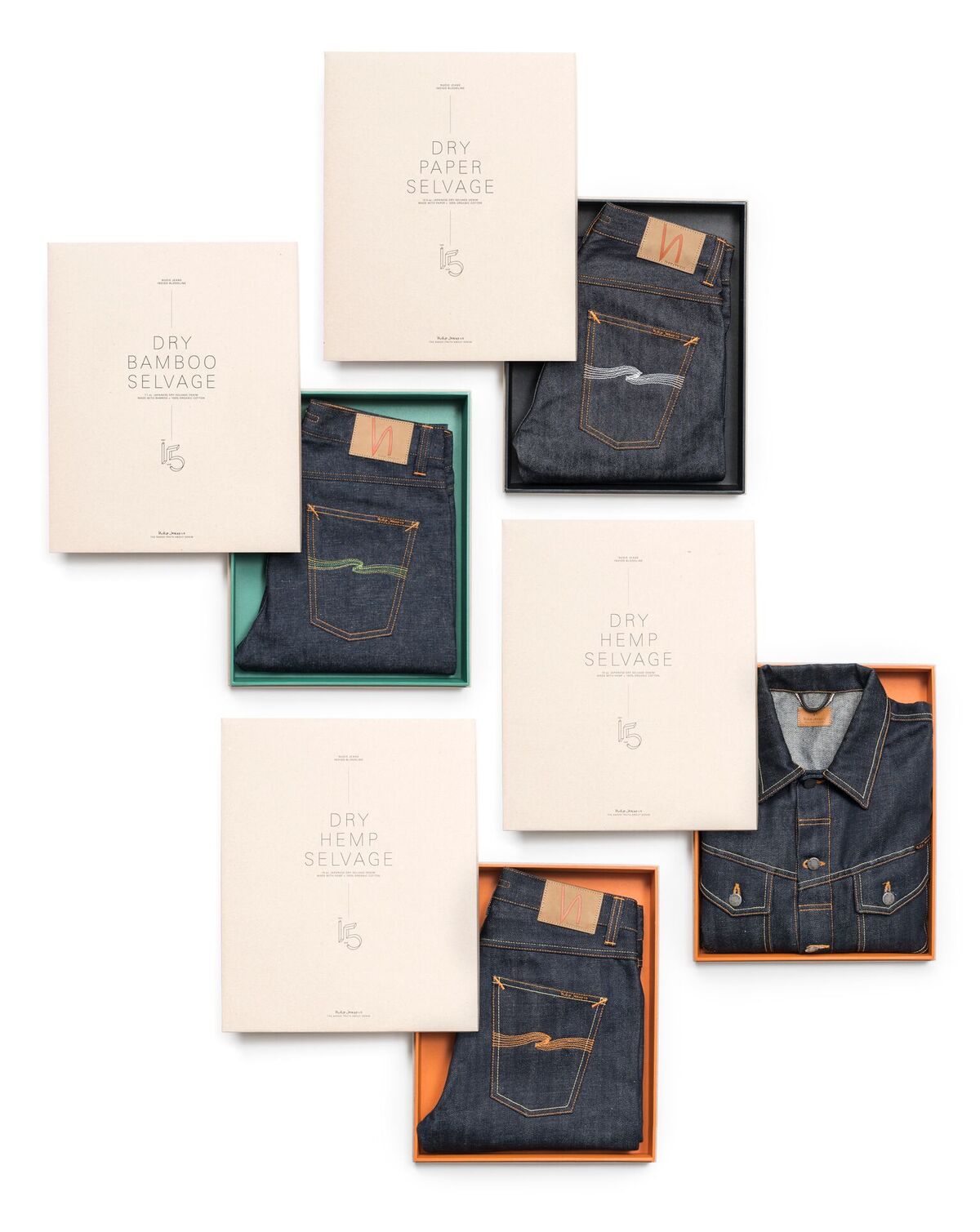 Nudie Jeans, the cult Swedish denim mavens who revitalized rigid indigo dry denim back in 2001 celebrate being15 in (20)16, with 'Bloodline': a limited edition collection of dry selvage denims made with paper, hemp, and bamboo, pushing the boundaries in originality and innovation alike. Launching at a select group of retail partners internationally on September 28, including Barneys New York, Tenue De Nîmes Amsterdam, Oi Polloi Manchester, and Beams Tokyo, the Bloodline concept references Nudie Jeans' history and loyalty to rigid Japanese selvage denim, while celebrating an innovative future in denim design. All styles are dry rigid indigos and blended with 100% organic cotton including:
a lightweight 7.1 oz. Dry Bamboo Selvage available in Lean Dean and Grim Tim fits. 55% bamboo linen, 45% organic cotton.
12.5 oz. Dry Paper Selvage available in Lean Dean and Grim Tim fits. 31% paper, 69% organic cotton.
and a heavy 14 oz. Dry Hemp Selvage available in Lean Dean and Grim Tim fits, and Billy jacket. 48% hemp, 52% organic cotton.
Maintaining the brand's considerate approach to responsible production, while the bamboo linen production method is a mechanical process, no chemicals are added and the bamboo yarn is biodegradable. In the Dry Paper Selvage styles, the paper yarn is biodegradable.
Each pair is individually numbered and presented in a custom box with a book containing Nudie Jeans pasts and presents.
"Our heart is made from dry denim; our blood is indigo colored. The idea of these denim items can be traced back to the very beginning. They are lineal descents of prototype #1. Now updated and made with an alternative way of thinking." Nudie Jeans, 2016.
NUDIE JEANS PAST AND PRESENT
Founded in 2001 by Maria Erixon, Joakim Levin and Palle Stenberg, Nudie Jeans was born from a dream of no compromise, in the humble origins of a one-room office in Gothenburg. Being independent and making a commitment to stay independent was present from the start and sits at the heart of their DNA to this day. Marrying influences from Maria and Palle's background in denim and Joakim's in music, Nudie Jeans had an ambitious yet pragmatic outlook from day one.
Committed to using the best denim fabrics and laundries to create timeless yet contemporary lines, the long term vision was to produce 100% organic collections. That long term vision became a reality, or a new standard rather, in 2012 when the first denim collection was produced with 100% organic cotton. Beyond organic, the Swedish company counts Fairtrade organic production, living wages programs, transparency and traceability, and recycling initiatives among their dynamic responsibility and ethical practices. Standalone "Repair Shops" – full concept retail stores which also double as destinations for customers to get their well-loved denims repaired for free – have grown to twenty-four internationally in key locations such as New York, London, Munich, Sydney, Tokyo. Expanding the repair shop footprint is a key driver to expand their international profile in the coming years.
Today, fifteen years on from that tiny office studio, Nudie Jeans design four seasons per year, including an 11-fit unisex denim line, tops, outerwear and accessories collections. Available in 33 markets worldwide, the company remains privately owned by the original founders – Maria Erixon holding the role of creative director, Joakim Levin chairman, and Palle Stenberg CEO.
__
Bloodline becomes available October 5 at Nudie Jeans online store, and the following international retailer partners: Barneys New York, Madison Avenue, NYC; Beams, Tokyo; END, Newcastle; Oi Polloi, London, Manchester; Tenue De Nîmes, Amsterdam; Meadow, Malmo; The Listener, Frankfurt; Crämer, Nürnberg; Denim Heads, Prague; Maple, Sydney; Lone Flag, Del Mar; Limbro, Jakarta; Pronto, Bangkok. 
DRY HEMP SELVAGE
14 OZ. JAPANESE DRY SELVAGE DENIM
48% HEMP
52% ORGANIC COTTON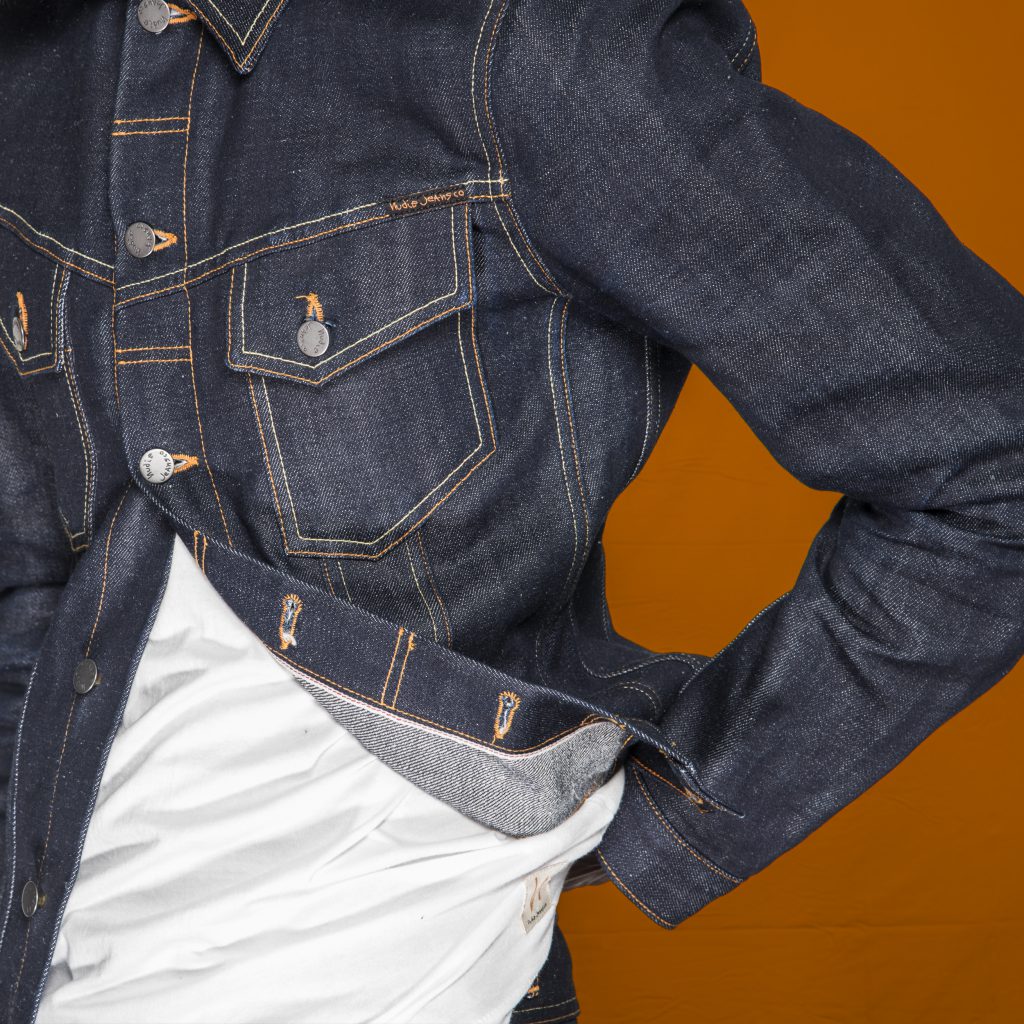 BILLY DRY HEMP SELVAGE
Each jacket numbered
Orange and pale yellow threads
Red selvage stripe ID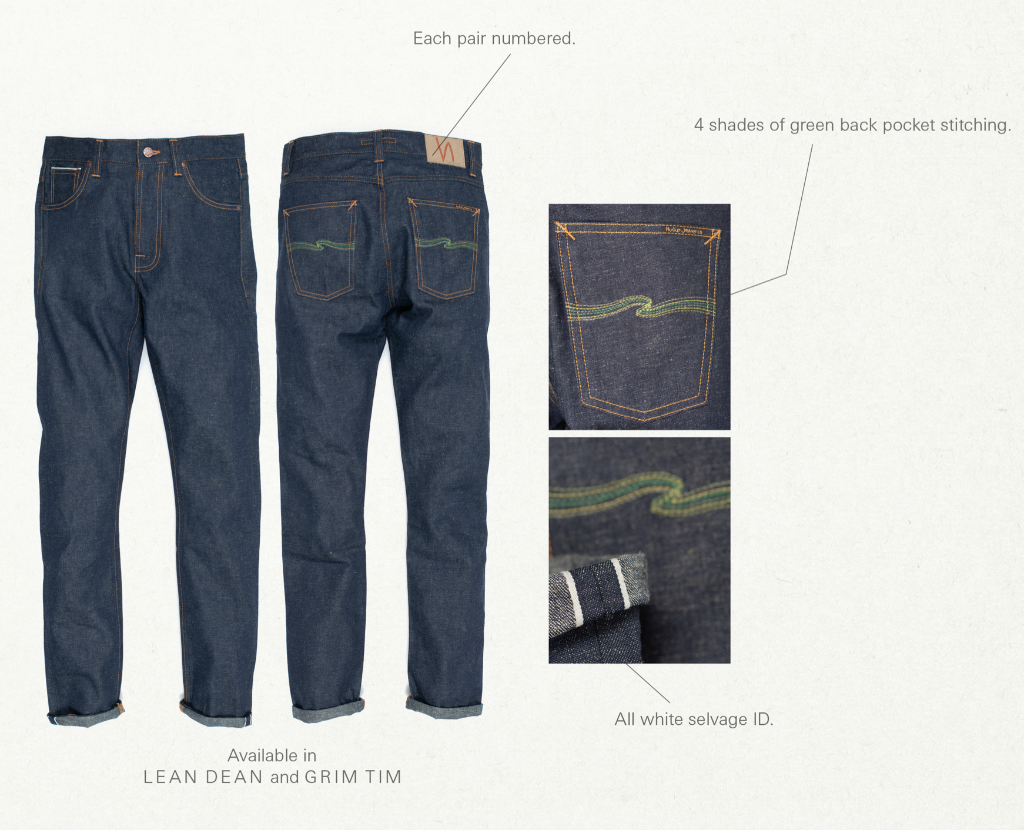 LEAN DEAN and GRIM TIM DRY HEMP SELVAGE
Each pair numbered
Orange and pale yellow threads
Red selvage stripe ID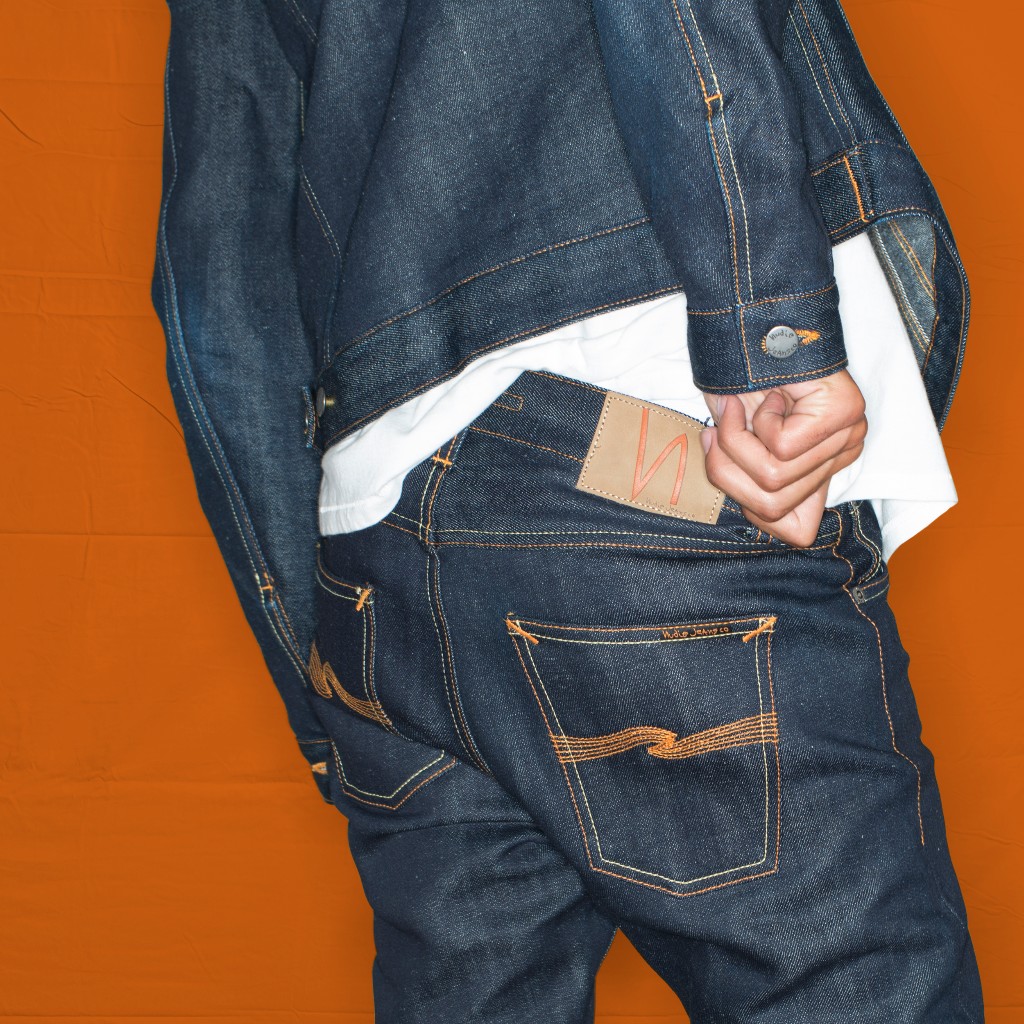 DRY BAMBOO SELVAGE
7.1 OZ. JAPANESE DRY SELVAGE DENIM
55% BAMBOO LINEN
52% ORGANIC COTTON
BAMBOO LINEN IS MADE IN A MECHANICAL PROCESS.
NO CHEMICALS ARE ADDED.
THE BAMBOO YARN IS BIODEGRADABLE.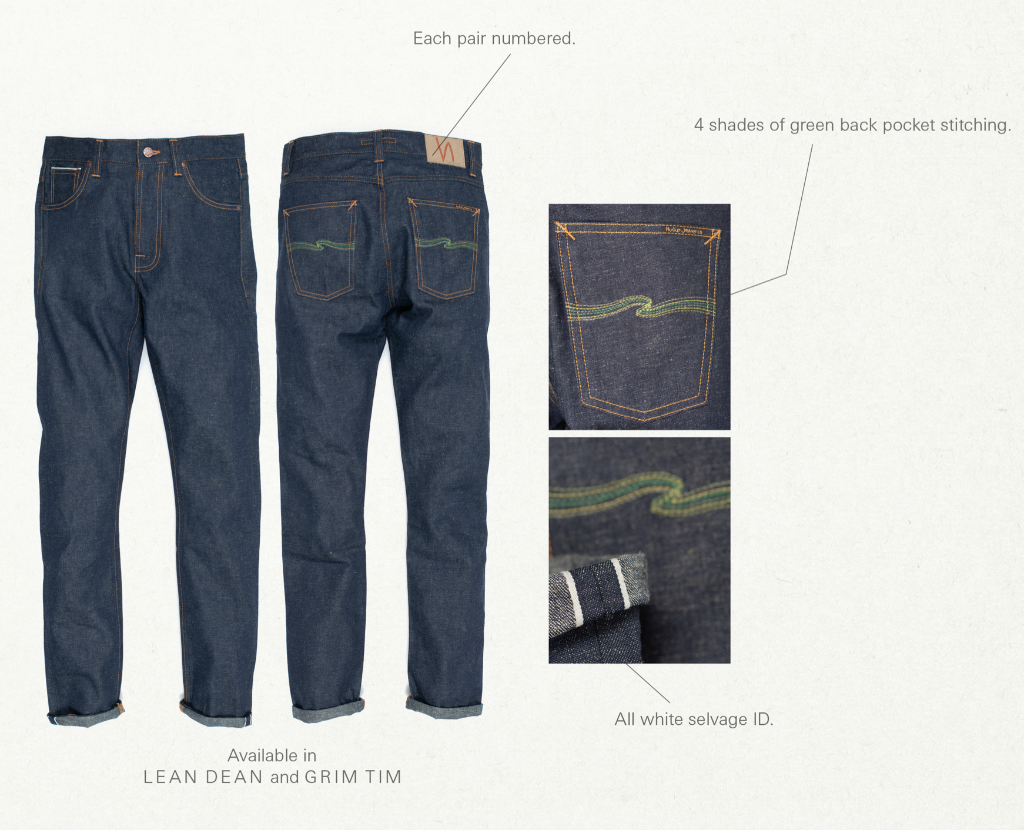 LEAN DEAN and GRIM TIM DRY BAMBOO SELVAGE
Each pair numbered
4 shades green back pocket stitching
All white selvage stripe ID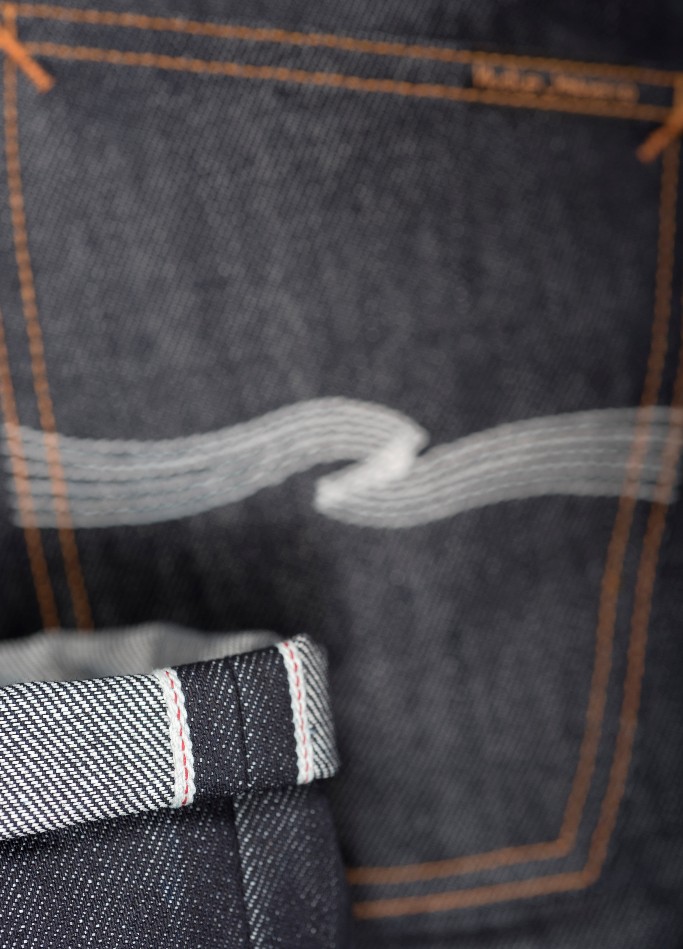 DRY PAPER SELVAGE
12.5 OZ. JAPANESE DRY SELVAGE DENIM
31% PAPER
69% ORGANIC COTTON
COMPARED TO COTTON, THE WEIGHT OF PAPER YARN IS ALMOST HALF. THE PAPER YARN IS BIODEGRADABLE.